As families returned to assess the damage to their homes and neighborhoods, one of the first signs of life was the appearance of a heap of trash at curbside: rotted sofas and mildewed drapes, family photos bleached of color and hopelessly glued together, moldy sheetrock, reeking bags of spoiled food and the refrigerators that once preserved it.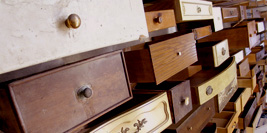 Detail of "Floodwall" installation
For artist Jana Napoli, as poignant as any part of the detritus were the furniture drawers in which we once had stored our special things: clothing, family photo albums, passports, medical records, heirloom silverware -- the intimate details of a world that no longer exists.

These drawers "also underscore that our lives are more than just our thoughts and physical embodiment. Our lives are our neighborhoods, our family, our friends, our neighbors, our workplace, our schools, our communities, our animals, our gardens, our personal property, and even our furniture drawers, the place where we store our secrets, our past lives, our photos, our mementos, our passions and our hopes and dreams."
Jana Napoli
Link URL: www.floodwall.org