the VESTIGES Project:
LOSS. RITUAL. RELIC. Residue: The Archive.

November 1, 2008-February 28, 2009
Newcomb College Center For Research on Women (NCCROW) Library and Archive
62 Newcomb Place, New Orleans, LA 70119
For more information, contact Jan Gilbert at 504-251-4968.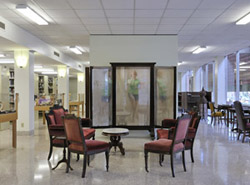 The VESTIGES Project, a New Orleans-based and inspired artist/writer collaborative, is celebrating its 25-year anniversary with a kickoff installation at Newcomb College Center for Research on Women (NCCROW), opening November 1, 2008 and on view through February 28, 2009. Located in NCCROW's Library and Archives on Tulane University's campus, LOSS. RITUAL. RELIC. Residue: The Archive is part of the VESTIGES Project's roving 3-year residency at New Orleans' Contemporary Arts Center and is co-sponsored by the CAC. The opportunity to present in Newcomb College's research library and archive and work with its scholars and students is most appropriate as three of the VESTIGES Project cofounders met while attending graduate school at Tulane/Newcomb, and many participants have similarly attended school, taught and lectured on campus.

VESTIGES Project artists' musings upon the vestigial landscape and culture of New Orleans began long before Katrina. Artist Jan Gilbert, a VESTIGES Project cofounder and curator of both its CAC residency and NCCROW installation, describes the Archive as "a 'portal' into the artist's methodology, presenting representative work of artists who merge their lives with their artmaking rituals and tools, to ruminate, to dig, to recognize, to collect, to re-collect, to highlight, to honor. Here are idiosyncratic, playful, yet serious displays of obsessive observing and compulsive producing of offerings to the public domain. These artists, while displaying quite distinctive modes of practice, possess common veins of mining loss."

Documents of process and history, as well as possibilities for new artmaking, resource building and collaboration form the basis of this fluxus-like "living archive", which will include film screenings, dialogues, onsite archiving actions, and routings to offsite related events.

Participants include: Jackie Brenner, Charlie Bishop, Peggy Bishop, Angela Driscoll, Jan Gilbert, Danella Primeaux Hero, Debra Howell, Sharon Jacques, Jennifer Odem, Kristen Struebing-Beazley, Michel Varisco, Michele White. Additionally, pieces and parts of collective projects including works of writers Carolyn Maisel, Andrei Codrescu, Yusef Komunyakaa, painter Margaret Witherspoon, and many more, come together to form Residue: The Archive.