the VESTIGES Project: TRINITAS

September 1-October 7, 2011
Rebecca Bryan Gallery at Coastal Carolina University in Conway, South Carolina
February 25-April 7, 2012
Contemporary Arts Center, New Orleans, as part of "NOLA NOW Part II"
October 18, 2012-January 25, 2017
US/IS, 441 Gravier St, New Orleans
August 28-September 30, 2015
Reese Gallery, St. Louis, Missouri, a partial installation as part of 'Marking Memories, 2005-2015
June 1, 2017-October 1, 2018
Domies Toen, 1710 Garden House, Pieterburen, and in Antiquariaat At tij en ontij (Ebb & Flow Antiquarian Bookstore) Kloosterburen, Netherlands, as part of the EXPEDITE KERSTVLOED 1717-2017 (Christmas Flood) Art Route along the Northern Groningen coastline

The Rebecca Bryan Gallery at Coastal Carolina University in South Carolina invited The VESTIGES Project to mark the 6th Anniversary of the Katrina floods with an exhibition entitled VESTIGES/TRINITAS. Along with other works by New Orleans artists, the exhibition marks the premiere of the commissioned installation VESTIGES/trinitas, conceived and constructed by Jan Gilbert and Debra Howell of The VESTIGES Project. In 2017, a Dutch layer was added to this migrating collective artwork that drew a parallel between the 1717 Dutch Christmas Flood and the 2005 post-Katrina flooding of 80% of New Orleans.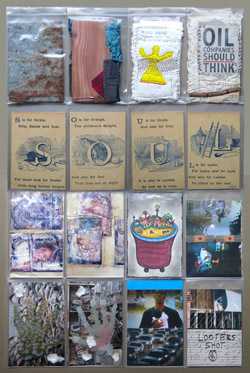 VESTIGES/trinitas is about coming to terms with what's been lost, on both a personal and regional scale, possibly forever. The double whammy of Katrina and the BP spill made it impossible to ignore the fact that New Orleans and South Louisiana would never be the way they were pre-Katrina, and the people who live here would never have the same lives they once had.
VESTIGES/trinitas is both a repository and an investigation: of our collective memory and identity; of the influence of our culture on our memories; of the relationship between our memories and our history. We'd like this work to act as a container within which we attach our photos, our memorabilia, our hodgepodge of disparate items we want to mark, to remember, to keep close.
VESTIGES/trinitas is a large format wall installation (approximately 9 feet x 18 feet) comprised of a multitude of reclosable (ziplock) clear plastic bags, containing images, objects and texts submitted by invited artists and writers. The bags are attached to the wall in three sections with a fish scale format, enabling the pieces to be seen both individually and as an integrated part of a larger "image". As visual reference for the installation, VESTIGES/trinitas uses the sky/earth/water trinity of our vanishing wetlands as a metaphor for what's been lost on an individual human scale as well.
Artists were invited to submit (recycle) what they miss, has been lost, or has been damaged, (physical, emotional, representational, in words, objects, images), to be "preserved" into these sealed 9"x6" ziplock bags. Contents could include pieces of damaged or lost art, books, or other items, and would be hung contiguously if necessary. We asked that whenever possible, their contributions would include clinical documentation: sealed into the bag along with each contribution should be identifying info such as time, place, manner of loss, either written/attached on the flip side or visible from the front. We encouraged as many submissions as they would like, and the results far exceeded our expectations.
Participating Artists and Writers 2011-2018: Monica Koechli Arpin - Jacques Arpin - Alex Baker - Dave Baker - Jacqueline Bishop - Barbara Brainard - Pearl Clark - Andrei Codrescu - Dylan Cruz - Luis Cruz-Azaceta - Lee Diegaard - Karen Oser Edmunds - Michael Fedor - Alan Gerson - Jan Gilbert - Brandon Graving - Maggie Hadleigh-West - Shawn Hall - Rachel Harris-Beck - Debra Howell - Elizabeth Howie - Sharon Jacques - Krista Jurisich - Lori A. Kent - Elizabeth Kleinveld - Mari Kornhauser - Crystal Kile - Frahn Koerner - Susan Loeb - Kevin J. McCaffrey - Page Moran - Darlene Olivo - Mary Jane Parker - Mary Perrin - Francine Prevost - Kathy Randels - Rontherin Ratliff - Laura Richens - Ama Rogan - Ben Schenk - Cynthia Scott - Caroline Senter - Mary Sherman - Maxx Sizeler - Jamuna Yvette Sirker - Susan Svendsen - Jan Villarrubia - Michele White - Nancy E. Wyllie - Alexis Wreden
Additional Participating Artists and Writers 2015-2018: Hanneke Graatsma - Nicolette Hetzler - Anne Hilderink - Joke Hoekstra - Paula Pietersen - Ruth Reese - Jos Schoffelen - Susan Tucker - Anne Wine - IJme Woensdregt, plus generous installation assistance from Klaas Heun and Kevin J. McCaffrey